Free Alteration Service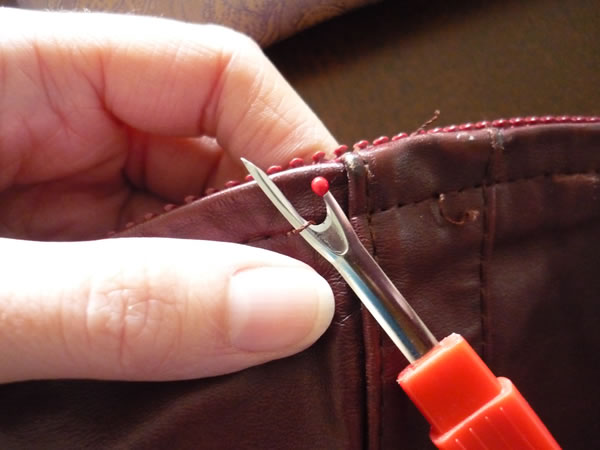 Back in the days when Simons Leather operated from High Street shops, we offered a free alteration service to our customers when they bought a leather or sheepskin jacket or coat from us, which then required some form of alteration. In most cases this usually meant that the sleeves were a little too long and needed shortening. Occasionally the jacket or coat would need shortening or narrowing through the shoulders or the body. This service would often be carried out on the same day of purchase.
Obviously,our Web Shop cannot practically operate in the same way. Nevertheless, we have always been determined that we should offer our online customers the very best quality of service that we are able. This means upon receipt of a purchase and having tried on the coat or jacket, the customer can return it to us for simple alteration when required.
THE CUSTOMER WILL NOT BE CHARGED FOR THE ALTERATION TO BE MADE TO THEIR PURCHASED JACKET OR COAT.
When a customer requires a sleeve shortening they will need to take a measurement and inform us the precise length that the sleeve needs to be shortened. It is also useful under the circumstances to either mark the sleeve in the appropriate place (with chalk), write us  a note, and/or to turn it over to length. We would always suggest that this measurement is always a little on the conservative side as the sleeves, themselves, can ride up slightly with wear. It should also be remembered that sleeves can always be shortened again if they prove to be too long; however, they cannot be 'lengthened' at a later date. If a sleeve has a cuff then this will initially be removed the arm shortened from behind this point (to length) and the cuff stitched back on once again.
Most jackets and coats can similarly be shortened to length. That said, this will only be practical where the shortened length does not go past either the garments zip or the pockets.
All leather and sheepskin garments are made up from panels of skin and any alteration is practical as long as the necessary panels are accessible.A garment will usually be narrowed through each side under the armholes or across the shoulders.Taking half an inch out of each side of a jacket (front and back) will be the equivalent of narrowing by one size.
Whilst we will not charge for any given alteration,the customer will be responsible for the return of the garment to us and the carriage cost. We will never carry out any alteration without discussing the process and the full practicalities with the customer first. Once we have discussed and agreed to the alteration the garment cannot be returned to us for refund (this does not affect any statutory rights).
All matters pertaining to any prospective alteration can be discussed with our Customer Services Team (01202 558884).