About Simons Leather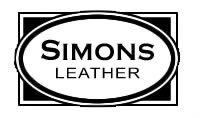 Simons Leatherwear was originally established as a family owned business in 1979 within the Bournemouth/Poole area. Initially selling a range of ladies and men's leather jackets, coats and sheepskin jackets and coats, it diversified into other associated products over the following years. As a busy seaside resort town Bournemouth attracted visitors from all over the country and, even, the rest of the World.During the following years many of our "out of town" customers asked to be sent product information, catalogues, and to purchase products by 'mail order'. Unfortunately, these requests were not always feasible from a practical perspective. The launch of our Website, therefore, enabled us to fulfil these requests as well as to reach a wider audience as far as new customers were concerned.
Initially, we were not sure whether our traditional expertise and our type of product would 'work' on line as well as they had within a traditional high street store. However, we made sure that every item we sold online was chosen on the basis of quality, value and 'usability' as they always had been in our shop. Our shop is located on a busy shopping street in Bournemouth town centre, however we are conveniently accessible from Southampton and other nearby places that lack specialist leather shops. We ensured that we were able to mirror our store shopping experience as closely as possible via our  Website. When a customer 'clicked' online they should be able to find the exact type of garment, pair of slippers, wallet, purse or leather handbag that they required. It was our understanding that many similar Websites lacked a proper understanding of the true shopping experience within a Specialist Leather Shop. We looked to offer the customer a breadth of knowledge built up over more than 30 years of selling Leather Jackets and associated products, directly, to all types of customer. We actively encouraged any potential customer to telephone or e-mail us if they had any particular questions concerning any potential purchase.
We could not have predicted that within a few short years our Website would have superceded our long standing high street store. Online enquiries and the resultant online sales grew at such a rate that we found by the Autumn of 2012 a decision had to be made in order to take the on-line business to the next level. This meant that we decided that our focus had to be specifically targeted and this could not happen if our efforts were split between the two businesses. From September 2012 Simons Leather ceased trading as a high street shop and Simons Leather 'Online' became our singular dedicated business. We felt, however, that local customer relationships built up over 30 years could not be ignored and decided to offer a 'Try Before You Buy Service' to a potential local customer. In this way we can arrange for a personal visit by prior arrangement if a customer wants to try any of our garments listed on the Website. At the same time we have completely overhauled and revamped our Website making it more 'user-friendly' - the menus are easier to follow, the pictures are clearer, the information is more detailed, and our product offering is broader than ever.
Please take your time to browse through our Web Shop and if you should have any questions to ask, please do not hesitate to contact us.
Opening Times of our Shop
| | |
| --- | --- |
| Monday : | 10am to 4pm |
| Tuesday : | Closed |
| Wednesday : | 10am to 4pm |
| Thursday : | 10am to 4pm |
| Friday : | 10am to 4pm |
| Saturday : | 10am to 5pm |
| Sunday : | Closed |
Company Details
| | |
| --- | --- |
| Company Name : | Pandell Ltd. trading as Simons Leather |
| Bournemouth Office : | 9 The Avenue Centre, 11-21 Commercial Road, Bournemouth, BH2 5RP, United Kingdom. |
| Company contact email : | |
| Registered Office : | 43 Delahays Drive, Hale, Altricham, Cheshire, WA15 8DR. |
| Company Registration : | Registered in England No. 3748109 |