Leather Shops in Bournemouth – Try Before You Buy
Simons Leather is located in the heart of Bournemouth town centre and within a short drive from Poole. Call 01202 558 884 to find out more about our offering or simply visit us at 9 The Avenue Centre, 11-21 Commercial Road, Bournemouth, BH2 5RP.
Up until recently, there were plenty of leather shops in Bournemouth, however, recently, the majority of them have closed or moved up North and we remain one of the few still operating in the area. Shopping has been a big part of Bournemouth's lifestyle since its early days as a Victorian seaside resort.
Officially, the heathland that is now Bournemouth gained its first inhabitants in 1810, however, it remained a small village for decades and you would have to travel to Poole or Christchurch for your shopping. By 1837, the village only had population below 700 and a couple of village shops dotted around. Soon, however, the stagecoach driving between Weymouth and Southampton started making stops in Bournemouth and that event finally brought trade to the area. First garment shops were established.
Today there are quite a few shopping arcades in the town but there aren't many leather shops in Bournemouth. You can start talking about Bournemouth as a fashion centre from about 1866 when the Gervis Arcade was built. It attracted more wealthy customers and helped the town grow. In 1884 the Henry Joy's Arcade was opened - known to today's shoppers simply as the Westbourne Arcade.
Slightly later - in 1892 - the Boscombe Royal Arcade opened its door. The latter was architecturally the more challenging project, however, today it's one of town's best known architectural gems. Interestingly, the majority of the large arcades in Bournemouth started out as two rows of shops on either side and their intricate glass roofs were added at a later date.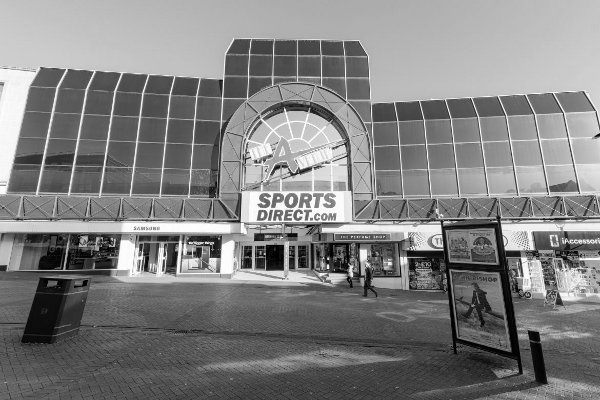 By 1901, mainly thanks to the bustling trade and fun shopping areas, Bournemouth had grown to almost 60,000 inhabitants. It's quite remarkable - in the space of little over half a century, Bournemouth had grown hundred-fold! It is understood that all big arcades and some of the smaller ones had at least one leather shop or at least one leather goods shop. Today this is no longer true as most leather shops have closed down.
The place where we're currently based - the Avenue Centre - was actually originally an arcade too. It was built in the 1960s after Marks & Spencer acquired the old Quaker meeting house that stood there. Initially you could walk through the arcade from Avenue Road down to Commercial Road - the part that's now converted into pedestrian area.
There's a possibility the shopping centre might be converted back into an arcade through a major redevelopment work that's being carried out right now. When it was first opened in the late 1960s the building looked entirely different. It received its modern cladding during the 1990s. We, however, moved our leather shop here only last year and we're finding that the active footfall of the Commercial road shopping traffic is helping us and other independent high street shops stay afloat despite the overall gloomy climate of UK's high street.
This part of Dorset is famous for quite a few retail achievements. The Dolphin Shopping Centre that started out as Arndale Shopping Centre in 1969 is the oldest covered shopping mall in the UK - the achievement that is often contested by the Brent Cross Shopping Centre.
Although Beales who remain in the Dolphin Centre since it opened its doors more than 50 years ago, do stock some leather garments, there are no specialised leather shops in Poole, that's why so many people travel from Poole to Simons Leather when it comes to buying a new leather jacket. Luckily, it's just a few minutes down the road.
You can get a flavour of our leather garment availability on our website and then you can pop into our leather shop to try before you buy. We stock significantly more varied garments than any high-street retailer, besides our staff is more patient and attentive. You are unlikely to spend half an hour or more trying on leather jackets at a mainstream retailer because they're too busy dealing with other customers. On the other hand, we think that's the least amount of time you need to choose wisely and buy a leather jacket that suits you perfectly.
Visit Simons Leather to find out first hand how a leather jacket should look, fit and feel. Call 01202 558 884 to enquire or simply visit us at 9 The Avenue Centre, 11-21 Commercial Road, Bournemouth, BH2 5RP.