Leather Shops in Southampton
Did you know that Simons Leather is located within a short drive (or rail journey) from Southampton? Call 01202 558 884 to enquire or simply visit us at 9 The Avenue Centre, 11-21 Commercial Road, Bournemouth, BH2 5RP.
Southampton has been a hub of retail therapy for many centuries. Steeped in naval and trade history, the city has always had plenty of disposable income giving fashion retailers a great base to thrive on. Looking back into history of sellers of leather jackets in Southampton, the earliest written reference of a business selling leather goods is dated 1774 – the City's archive contains documents mentioning one Mr William Plyer of Romsey, who was a leather seller.
Although we should say that leather fashion was very different back then. You did not see ladies and gentlemen wearing leather jackets in Southampton or anywhere else in England for that matter. Most leather made in the UK was used in shoemaking, and wearable leather was mainly made for farmers, sailors and military personnel.
Another reference to an early leather shop in Southampton mentions William Blandford, who was a leather retailer based in the city. It's unclear as to what types of garments he sold because no detailed records survive.
First leather fashion shops in Hampshire the way we know them today appeared around the end of 19th century and there were two main retail hubs where fashion retailers concentrated – the Shirley area and East Street. While the former was slightly dodgy, the posh customers went to East Street for their fashion needs, and we can tell you that this place was as good for fashionistas and dandies as any other fashion centres in London, Paris or Milan.
East Street was the place to be and all the trendy things were sold there. During its heyday  it had a dozen tailors, 10 shoe shops, several leather shops, umbrella sellers and even a real blacksmith.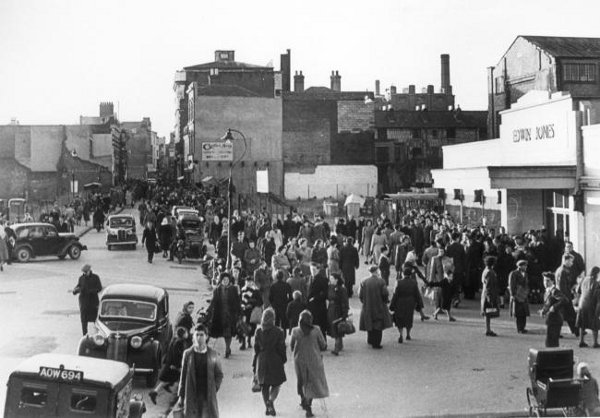 The real revolution around the leather shops in Southampton happened thanks to Edwin Jones – the man behind the South's finest department store. He started out in 1860 with a tiny single-fronted shop selling haberdashery. The business was so successful that by 1880 he had expanded into a local retail mogul selling dresses, leather goods, furniture among other fine things.
The famous department store continued into the 20th century until 1928 when it was acquired by Debenhams, who incidentally, sell leather jackets and other leather garments, too.
This has been the story for the most of the 20th century and modern times – although Southampton is famous for its retail zone – with grand shopping centres like East Street, Bargate, Marlands and Westquay Shopping Centre, there are few, if any, specialist leather shops in Southampton.
All the aforementioned retail centres sell leather jackets and blazers, however, the problem with mainstream retailers is that they don't stock all sizes and  their understanding on leather goods is rather superficial because they don't choose to specialise on certain things.
This is where Simons Leather comes in. We are conveniently situated for Southampton customers as we're just a drive away.  You will find that we are worth the short drive. It's only in a real shop when you actually know whether a leather jacket looks right.
You can get a flavour of our leather garment availability on our website and then you can pop into our leather shop to try before you buy. We stock significantly more varied garments than any high-street retailer, besides our staff is more patient and attentive. You are unlikely to spend half an hour or more trying on leather jackets at a mainstream retailer because they're too busy dealing with other customers. On the other hand, we think that's the least amount of time you need to choose wisely and buy a leather jacket that suits you perfectly.
Visit Simons Leather to find out first hand how a leather jacket should look, fit and feel. Call 01202 558 884 to enquire or simply visit us at 9 The Avenue Centre, 11-21 Commercial Road, Bournemouth, BH2 5RP.